Get Your Flarble® Here
Retail Pricing
| | | | |
| --- | --- | --- | --- |
| | Poly Bag | 16 piece | $2.99 each |
| | Blister Pack | 20 piece | $3.99 each |
| | Pillow Pack | 24 piece | $4.99 each |
| | Bulk | single | .15 each |
Flarble Christmas Balls
TEMPORARILY OUT OF STOCK
Contact us if you have interest in this product.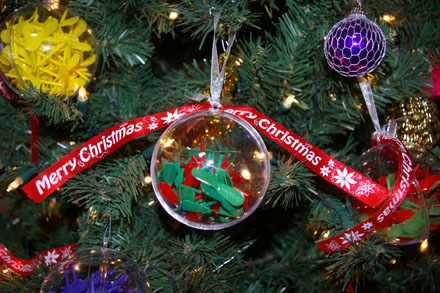 For Retailers
If you would like to be a retailer of Flarble®, fill out our Credit Application and fax it to the number indicated on the form.
For retail pricing call 870-356-3523 or e-mail our sales representative Jennifer at .
Order
Send check or money order (Make payable to Rock Creek Molding) to 397 Rock Creek Rd., Glenwood, AR 71943 or call Jennifer or Gordon at 870-356-3523, please have credit card information ready.
Minimum order: $10.00 plus shipping and handling
All orders will have a variety of rainbow colors. For color specific orders please call. Please allow 1 to 2 weeks for custom color orders. Add 5 cents per package for custom color combinations.
Shipping Costs: (US Shipments only)
orders from $10-$25  add $10.00
orders from $25.00-$50.00 add $12.00
orders from $50 and over add $14.00